Learning English sh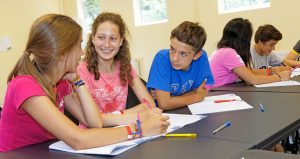 ould be about communicating – to understand and be understood. At the Bermuda language school Bochum, we create an environment for this communication to take place for the kids, teens and adults who join us from around the world. Unlike the English language courses offered by other English language schools in Bochum, our English lessons are woven into what the students do each day. Whether it is at local Bochum Zoo or the regular school trips, our students learn the English language in its historical and cultural context as they explore Germany together. As Victorian housemaids, World of animal spies or food critics reviewing a life style in Germany in comparison to other countries, they experience, share and learn in the language in an english designed atmosphere!
Improve their English skills and build their confidence.
Being confident in English can give your child an early advantage at school and give them a great head start in making the most of the education, qualification and career opportunities that lie in front of them.
Our courses have been specifically designed around the unique way children learn and are taught by experienced teachers who are passionate about the English language and experts in teaching children. All delivered in a safe and secure environment.
And by encouraging children to talk, play and interact with each other in a natural and enjoyable way, we help them practice their speaking, listening, reading and writing without feeling they're being taught.
All supported by the world's most comprehensive collection of online learning resources for children.
Peace of mind for you. Fun for your child.
Explore the unrivaled range of courses and support available from the world's English experts to help your child get the best possible start in life.